With this issue, The Trust says good-bye to retiring General Counsel Jane Wilton, who reflects below on her 29 years of stewardship. She will be missed greatly.
"Among the greatest sources of pleasure in this job has been talking with donors about their philanthropic goals. It's not the money-making side of people, but the money-giving side—and I think it is the best side of people. After a life of hard work, they sat down with me to discuss their passions, what they want to be remembered for, what they want their legacy to be. I feel lucky that I have had a job where I got to help people think about these issues that are so important to them. It's also been a pleasure to work with so many great professional advisors who have facilitated making their clients' philanthropic legacies a reality.
Many things have changed since I arrived in 1991. Technology has revolutionized the daily operations of what we do—email, online searches, social media. At The Trust, we added MyNYCT, an online portal that has been an amazing success, allowing donors to make donations and grants at their convenience. But the heart of our work with donors has stayed the same: the one-to-one discussions about the present and the future. I will truly miss the generous people I've connected with—at our donor events and the occasional in-person office visits, which have not been possible lately due to the pandemic.
In the field, I've seen governmental scrutiny of the charitable sector increase. With the skyrocketing popularity of donor-advised funds (DAFs), there has been a growing distrust of these vehicles, with critics saying that charitable dollars are not getting to the charities that need them. Our experience at The Trust has shown me that skepticism toward DAFs is unwarranted. I have seen people put in money and spend it out very quickly. They are clearly getting pleasure out of grantmaking—and how can that not be good for the field in general? 
Our donor advisors have been happy to direct grants to help fellow New Yorkers. And it's been particularly satisfying for me to work with the growing number of current donors who have decided to establish legacy gifts that will have a lasting impact on the region's future.  
Though I am thrilled to see a new generation of staff, including my successor Carrie Trowbridge, come to The Trust, it certainly has been terribly sad to be unable to say good-bye to long-time colleagues face-to-face while we work remotely. In fact, the pandemic brings to mind the other crises we have faced together—9/11, the Great Recession, superstorm Sandy—and our response to each one has brought out the best in us. Our grantmakers see issues—and solutions—before others, and they care so deeply about their work and the city. I have always been struck by the intelligence and professionalism of The Trust staff. It has been a privilege and a joy to be a small part of a team that has made such a profound difference in the lives of New Yorkers and this city we all love."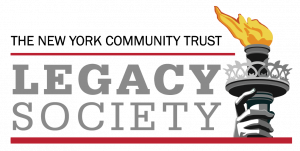 Champion the causes you care about, forever.
Our Legacy Society brings together donors who want to make a permanent impact on the causes they care about most. The charitable goals of its members are as diverse as the people of New York City, but they are linked together by their desire to create a better world for generations to come. Please let us know if you are thinking about including, or have already included, The Trust in your estate through a planned gift by naming The Trust in your will, or using retirement plan assets.

For more information about the Legacy Society, please contact Marie D'Costa at md@nyct-cfi.org or (212) 686-2461.