First Person | Lita Elvers
"I've lived in different New York neighborhoods most of my life, from Jackson Heights, Queens, to Greenwich Village, where I am now. It's a big city, but I like the little communities that bring people together, like the chess players in Washington Square Park or the people from all walks of life that I know at my senior center.
My late husband, Wally, and I made great friends volunteering at the American Museum of Natural History. We've always enjoyed being a part of the action.
Looking to the future, I worry. I wonder if my children, but especially my grandchildren, will be able to enjoy the good things I've had. It's a comfort to know I've put The Trust in my will to preserve what I love about this city.
I know that at The Trust I get the most bang for my buck, and my gift will be well managed by people who know what they're doing. As a member of their Legacy Society, I look forward to meeting like-minded people who believe as much as I do in the power of community."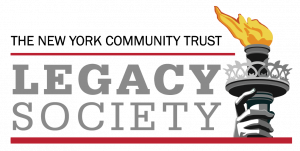 If you've already included The New York Community Trust in your will or estate plans, we want to honor you in our Legacy Society. Contact Marie D'Costa at (212) 686-2461 or md@nyct-cfi.org to let us know or to join us.